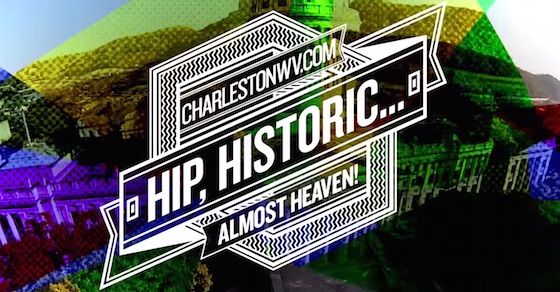 Discover the Hip, Historic & Almost Heaven …Charleston WV
Hip, Historic … Almost Heaven!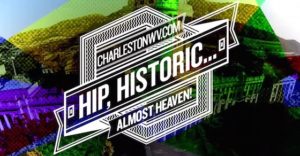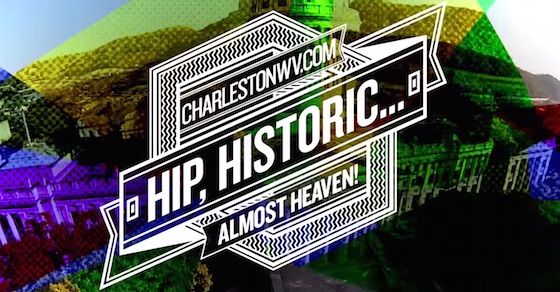 Charleston WV is the capital city of West Virginia, but has captured a small town charm with a progressive attitude. When you visit the Hip, Historic, Almost Heaven city, you can celebrate the arts, embrace great food and enjoy their heritage of outdoor recreation. Charleston is a walkable city, with a thriving and revitalized Downtown, with a focus on local artists, Farmers Markets, outdoor festivals, variety of boutiques, antiques and retail shops. There is so much to see and explore in this gateway to the wild and wonderful West Virginia, so if you are staying short or long-term, take time to get to know Charleston WV.
From Mayor Danny Jones, "Welcome to the City of Charleston, West Virginia, where our people are known for genuine hospitality and follow their passions to make our city a great place to live, visit and invest in the future."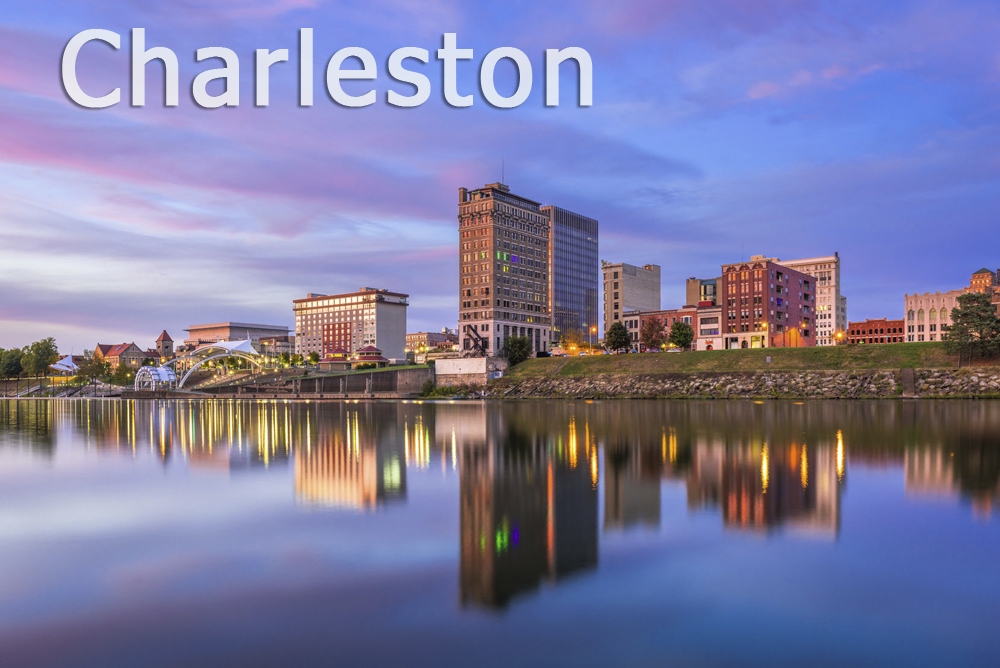 About Charleston
Charleston is the capital and largest city of the U.S. state of West Virginia with a population of almost 51,000 in the city and total 225,000 in the metropolitan area. It is located at the confluence of the Elk and Kanawha Rivers in Kanawha County.  Starting in the 1980's, revitalization of the Downtown began with the opening of the Charleston Town Center, as well a renovation of building facades, landscaping, walkways and streetscaping. Today, Capitol Street, Hale Street, and other bordering streets are an eclectic mixture of restaurants, shops, businesses and services that many call the centerpiece of downtown.
Many festivals and events were also incorporated into the calendar, including Multifest, Vandalia Festival, a July 4 celebration with fireworks at Haddad Riverfront Park, and the already popular Sternwheel Regatta, which was founded in 1970, provided a festive atmosphere for residents to enjoy. In 2005, FestivALL Charleston was established and has grown into a ten-day festival offering a variety of performances, events and exhibits in music, dance, theatre, visual arts and other entertainments. Charleston hosted a community event in 2015 on collaborative strategies to combat heroin and drug trafficking in the Appalachians, with President Barack Obama as guest speaker.
Charleston Attractions
There's plenty to do and see in Charleston! The city is full of shopping, arts and culture, history, sports and family-friendly fun. Charleston provides plenty of "sit back and relax" activities, great entertainment and is the gateway to adventure. Don't miss these attractions:
ACE Adventure Resort:  This adventure resort with activities from white-water rafting to rock climbing is 3.9 miles from the New River Gorge Convention and Visitors Center.
Appalachian Boarding Company: From the mile high mountain lakes of the Pacific Northwest, to the crystal clear waters of the Caribbean Sea…Appalachian Boarding Company has paddled them all and everywhere in between, and found there's nothing more wild and wonderful than the waterways of West Virginia right here at home in Appalachia.
Appalachian Power Park: Don't pass on a visit to the official ball park of the West Virginia Power, a Class A affiliate of the Pittsburgh Pirates.
ArtWalk: A free self-guided walking tour of Downtown Charleston's shops, galleries and businesses featuring a variety of art – from paintings and sculptures to photography and music. ArtWalk is typically held the third Thursday of each month.
Bar 101:  Charlestonians have gathered at the corner of Capitol and Virginia since 1972 to share a drink and some conversation. Stop in and join in the continuing this tradition of hospitality!
Brown Bag Concert Series:  Grab your lunch from a Downtown Charleston restaurant and make your way to Davis Park for free live music the third Wednesday of the month May – September 11:30 a.m. to 1:30 p.m. Brown Bag specials will be offered at participating downtown Charleston restaurants on the day of the concerts.
Capitol Market:  It's a market for all seasons offering a premium selection of goods and services for the shopper, traveler and Greater Charleston community.
Cato Park: Cato Park is the largest and most used park in the capital city of Charleston, WV.
Charleston Ballet:  Since its debut performance in April 1956 under the skillful direction of founder Andre Van Damme, the Charleston Ballet has presented well over 175 original works as well as many traditional ballet stagings.
Charleston Civic Center:  The Charleston Civic Center hosts concerts, fairs, sporting events, conferences and much more.
Charleston Light Opera Guild:  The Charleston Light Opera Guild was founded in 1949 by a group of vocal teachers and talented amateur performers who sought an outlet for musical talent in the Kanawha Valley.
Charleston Town Center: The Town Center Mall, located in the heart of downtown, is one of the largest indoor shopping centers east of the Mississippi.
Clay Center for Arts & Science:  The stimulating Clay Center for the Arts and Sciences is a multi-million dollar facility with performance and gallery spaces. The Clay Center offers a wide range of entertainment, educational and artistic experiences. And it's all under one roof! Upcoming shows: Bob Dylan on November 2, ZZ Top on November 9, and Video Games Live on February 11.
Comedy Zone Charleston:  The Funniest Place in Charleston.
Craik-Patton House: The Craik-Patton House is a historic home open to the public.
Culture Center and State Museum:  Located on the state Capitol grounds, the Culture Center includes the interactive West Virginia State Museum, archives, two libraries and the state theater.
GOLF:  Big Bend Golf Course is an eighteen-hole championship golf course, par 71; 6,237 yards. Cato Golf Course is a 9-hole course. Coonskin Golf Course is an 18-hole executive course. Sandy Brae Golf Course is 18-hole course, par 69. Scarlet Oaks offers lush fairways, impeccably manicured greens, a state-of-the-art irrigation system and a challenging 18-hole, par 72, championship-caliber course. Shawnee Golf Course is 9-hole course with fairly flat, well-bunkered course with three water hazards, and 3,240 yards and par 36.
Governor's Mansion: Located on the state Capitol grounds is the architecturally impressive Governor's Mansion, a 30-room Georgian revival-style home.
Heritage Towers Museum: A collection of galleries unfolds the story of American heritage from life in West Africa, to the courageous travel along the Underground Railroad trails and the histroy of African-American coal miners.
Kanawa Players Theatre: 93 Years of Quality Community Theatre! Kanawha Players is the one of the oldest, continuously operating amateur theater company in the country.
Live on the Levee: Every Friday from Memorial Day to Labor Day at Haddad Riverfront Park the Schoenbaum Stage plays host to live music in a variety of styles, that is always free.
Magic Island: The perfect destination for outdoor fun!
Mardi Gras Casino & Resort: The convenient, friendly and exciting atmosphere provides the most fulfilling experience you will ever have!
Mountain Stage:  Mountain Stage is a two-hour music radio show, first aired in 1983, produced by WV Public Broadcasting and distrbuted worldwide by National Public Radio (NPR) and the Voice of America's satellite radio service.
PARKS:   Enjoy swimming, golf, tennis, soccer, picnicking, mini-golf and hiking trails at Coonskin Park, Daniel Boone Park, Danner Meadow Park, Dunbar Wine Cellar Park, Haddad Riverfront Park, Kanawha State Forest, Little Creek Park, and Spring Hill Cemetery Park.
River Expeditions: Get out and PLAY with West Virginia's only family-owned Adventure Outfitter offering Rafting, Ziplines and more! Group Rates & Transportation available.
SHOPPING:  For quintessential shopping experience with an eclectic mix of shopping restaurants, eateries, nightclubs, entertainment with a funky urban style, check out: Dudley Farms Plaza, East End Shopping, East End Bazaar, Gallery 11, The Shops at Kanawha, The Shops at Trace Fork, Southridge, and WV Marketplace.
South Charleston Memorial Ice Arena: Public skating, hockey, figure skating and "Learn to Skate program." Skate rental and pro shop.
Southridge Grand Prix Family Fun: something for everyone to enjoy. From go karts to laser tag, family games and more, be sure to stop at Southridge Grand Prix for a day full of family fun!
Sunrise Carriage Trail: gently zigzags 0.65 mile and descends 180 feet from the Sunrise Mansion located at 746 Myrtle Road to Justice Row, which is adjacent to the south end of the Southside Bridge.
West Side Farmers Market: Working to provide fresh, organic, and local as much as possible edible fruits and vegetables for our community every week.
West Virginia State Capitol:  As West Virginia's capital city, Charleston's biggest attraction is the state Capitol. The state Captiol was constructed in three stages, between 1924 – 1932, and dedicated on the state's 69th birthday on June 20, 1932.
West Virginia Symphony Orchestra:  West Virginia's premier performing arts organization, presenting more than 50 concerts annually to audiences throughtout the Mountain State.
Upcoming Events & Festivals
Fall is a great time to visit and spend time in Charleston WV with a host of events, celebrations and opportunities to experience Charleston WV.  OctoberWest is a festival on Charleston Main Streets to celebrate local foods, craft brews, and live tunes. FestivALL Fall turns a season into a work of art and from the West Side to the East End you will find music, theater, dance, and visual arts events that highlight the culture and history of our Wild and Wonderful State.
And don't forget Halloween, where HallowEast will bring a number of live music shows, parties, costume contests, and more with this four day celebration in the East End. CLUE will be played as part of the Mainstreet Murder Mystery at the Appalachian Power Park on October 26th. Also, the Halloween Bash! at the Culture Center where ghosts and goblins, princesses and super heroes are all welcome to bring their parents to the annual Culture Center party.
See more upcoming events:  http://charlestonwv.com/events/default.aspx
If you are staying short or long-term in Charleston WV for work, business, education, family or education reasons, Ideal Corporate Housing offers flexible, affordable lease-free temporary housing in this great city. We've selected only quality and amenity-rich communities in Charleston WV to ensure an enjoyable, comfortable and convenient stay for those traveling alone or with their families. Why stay in a hotel?  Get started today and receive a FREE quote.